Peppermint Rush
In Peppermint Rush you have to collect peppermint leaves from 35 pots, trying to achieve the highest score possible. Oh, and must prepare the soil and plant the shoots too.
To do this, there are 4 tools at your disposal that you can select by clicking the corresponding button, or using special keys (ASZX or 1234). After the plant is fully grown chop it 3 times, each time will grant you 1 point.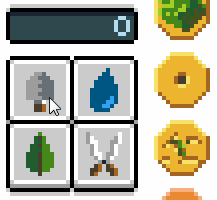 But be swift! If you leave a pot unattended for some time (10 seconds) it will die, and you won't be able to use it anymore. The time shortens every time a pot die, so try to avoid this. Don't worry, there's a safeguard: if a pot dies, no other can do it for 3 seconds.
Use the pause button ( space bar) to give your hands a rest.
Good luck, have fun.
Tools
| | | |
| --- | --- | --- |
| Shovel | A/1 | Click 3 times on Dirty Soil to clean it up. |
| Water | S/2 | Click 1 time on Dry Soil to pour it. It'll take 6 seconds for it to get moist. |
| Mint | Z/3 | Click 1 time on Wet Soil to plant it. It'll take 15 seconds for it to fully grow. |
| Scissors | X/4 | Click 3 times on Peppermint Plants extract the leaves. Every click will grant you 1 point |
Credits
Created by Federico Cingolani for the Dalek Jam.
Built with Phaser, used Aseprite for pixel art, sfxr to create sound effects, Kenney's Kenpixel Mini font, and Arne's 32 palette.
Also available on